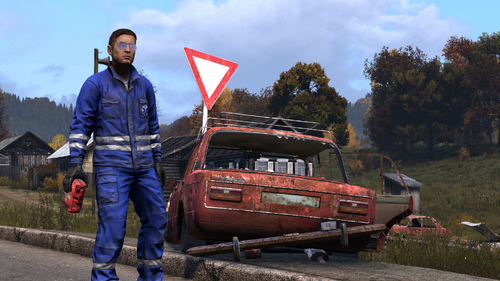 In DayZ Standalone, Character Status can be described as the overall state and well-being of a player's character. A character's status is defined by a complex, ever-changing system of stats, values, and attributes and their interactions with one another. The status system can be broken down into three primary categories:
| | |
| --- | --- |
| Stats | Numerical representations of a specific facet or aspect of a character's body, state, or well-being |
| Conditions | Changes, either temporary or permanent, to a character's state or body that differ from the norm |
| Modifiers | Temporary effects that normally change character stats either gradually or instantly |
Managing and monitoring your character's status is an extremely important part of DayZ. Not only to prevent death, but your character's status also impacts your ability to perform certain activities, how resistant you are to diseases, how quickly you can recover from injury, as well as many other effects.
Stats
A Stat is a dynamic, a numerical value that represents a specific facet of a character's body or state at that moment in time. In DayZ Standalone players do not see their character's raw stats. Instead, they are conveyed to the player in more subtle ways, UI badges in the HUD, changes in character animations or visual effects, or specific audio cues. Almost all stats have Modifiers or cause certain Conditions when they reach a specific threshold.
There are approximately 14 character stats in DayZ Standalone, with the most important of them represented in the HUD. These stats can be broken down into four groups in order of (general) importance: Critical, Core, Survival, Action. It is important to note that not all of a character's stats need to be, or even can be, consistently monitored. For players old and new the Critical and Core stats are, in general, the stats that players need to be most aware of.
Critical
Core
Survival
Action
Conditions
Conditions are changes, either temporary or permanent, to a character's state or body that differs from the norm. Conditions are typically the result of an action, but can also be the result of a stat change or even another condition. Most conditions also tend to cause one or more modifiers.
Injury
Illness & Disease
Beyond the more obvious physical injuries, Survivors are also subject to contracting various illnesses or diseases. Infection can occur in a variety of ways, ranging from drinking dirty water to contact with another infected survivor.
| Name | Type | Cause | Symptoms | Duration | Treatment |
| --- | --- | --- | --- | --- | --- |
| Brain Prion Disease | Disease | Consumption of Human Steak or Fat from dead humans | Tremors, Uncontrollable Laughter | Permanent | Suicide |
| Chemical Poisoning | Illness | Consumption of Disinfectant, Gasoline or Alcohol Tincture | Blood Loss, Water Loss | Very Short | Charcoal Tablets |
| Cholera | Disease | Consumption of unclean water | Vomiting, Blurry Vision, Dehydration, Fever | Varies | Tetracycline Pills |
| Common Cold | Disease | Contact with infected Survivor, Exposure | Sneezing | Varies | Tetracycline Pills |
| Hemolytic Reaction | Illness | Improper Blood Transfusion | Blood Damage | Long | None |
| Influenza | Disease | Contact with infected Survivor, Exposure | Coughing, Sneezing, Fever | Varies | Tetracycline Pills |
| Salmonellosis | Disease | Consumption of raw meat, rotten food, or eating and drinking with bloody hands | Vomiting, Health Damage | Varies | Charcoal Tablets |
| Wound Infection | Disease | Using undisinfected rags, bandages, or sewing kits or letting a wound heal itself | Health Damage, Tremors, Fever, Blurry vision, Water loss, Pain Noises, Stamina regeneration loss | Permanent | Tetracycline Pills, if on stage 1 disinfectant can be used on the wound |
| Gas Poisoning | Illness | Exposure to a Contaminated Zone without the correct safety equipment | Coughing, Vomiting, Bleeding, Unconsciousness, Health Damage, Death | Varies | PO-X Antidote, or IV Blood Bag with blood collected from someone outside of the gas and not afflicted with Gas Poisoning themselves |
Exposure
Exposure is a term used to describe poor health or death due to a lack of protection from prolonged periods of extreme temperatures or environmental conditions. It is also often a reference to poor health or death due to starvation, dehydration, poisonous substances, or any combination of these things.
Stuffed Stomach
Eating too much food or drinking too much water too quickly. Can lead to Vomiting.
Hypothermia
The player is freezing due to a lack of warmth. Loss of body heat is caused due to prolonged exposure to cold weather, not wearing heavy enough clothing, and/or high levels of humidity. It results in rapid loss of energy and, if left unmanaged, the player could freeze to death.
Treatment for hypothermia includes increasing your body temperature and re-energizing yourself. Get out of the cold and into warm, dry clothing. You can also use a heatpack or start a fireplace and be warmed by its heat. Increased activity like running also helps.
Wetness
The overall level of water saturation affects a character's clothing and possessions. Characters get wet when they are exposed to rain or when entering a body of water (partially when wading, fully when swimming). As a character's level of wetness rises, a status indicator in the HUD appears to warn you of your character and your items being wet. After leaving the body of water or getting out of the rain, the character's level of wetness will decrease gradually until they are completely dry.
A character's level of wetness has no direct effect on their health, instead, it affects clothing by reducing its heat insulation value as well as equipment by making saturated items heavier (and this reducing maximum stamina). This will cause a reduction in the character's body temperature, which can be beneficial if they are suffering from hyperthermia (being too hot), otherwise, it may cause them to eventually suffer from hypothermia (being too cold).
If a character has gotten wet, there are a few options for getting dry again.
Run around for a while. If you keep moving, especially at a quick pace, you will "air dry" over time.
Wring out your clothes. If you open the inventory screen and drag wet clothing to your hands you will have the option to wring them out (twist them to get the water out). Each spin of the action timer equates to a reduction in one level of wetness (Drenched -> Soaked -> Wet -> Damp), dramatically speeding up the drying process. (This is pointless, of course, if you are still in the rain.)
Sit next to a fireplace. This is by far the most effective method, particularly fast when combined with wringing out your clothes. This will completely dry both you and your items in a matter of minutes.
Modifiers
Modifiers are effects that normally cause changes, either gradually or instantly, to character stats. Modifiers can also cause changes in everything from character animations, to control or even visual effects. Some modifiers may have a visual or audio cue, while others are represented in the HUD.
Injury
Injury is commonplace in Chernarus and Survivors should expect to become injured at some point or another. Injuries can be caused by a wide variety of actions and events; from attacks by the Infected or wild animals to falling to violent encounters with other Survivors, injuries come in many forms. The effects of these injuries can range from minor inconvenience (pain, limping, etc.) to life-threatening (severe bleeding, unconsciousness, etc) and everything in between. Some injuries, such as falling several stories from a building or ledge, will kill a character instantly.
| Injury Type | Common Cause | Stats Affected | Possible Effects |
| --- | --- | --- | --- |
| Scratches, Bites | Infected, Wolves, Bears | Health, Shock | Bleeding, Unconsciousness |
| Cuts, Punctures & Lacerations | Bladed Tools & Weapons | Health, Blood | Bleeding |
| Blunt Force Trauma | Blunt Tools & Weapons | Health, Shock | Unconsciousness |
| Gunshot Wound | Firearm | Health, Blood, Shock | Bleeding, Unconsciousness |
| Impact Injury | Fall from height, Car Accident | Health, Shock | Unconsciousness, Fracture |
Regeneration
All stats can be restored or treated through natural regeneration or medical treatments. While slower, natural regeneration or allowing a character's immune system to fight off disease only requires that the character stay fed and hydrated. Medical treatments, on the other hand, are much faster, but require the use of medical supplies.
Blood
 See Also: Blood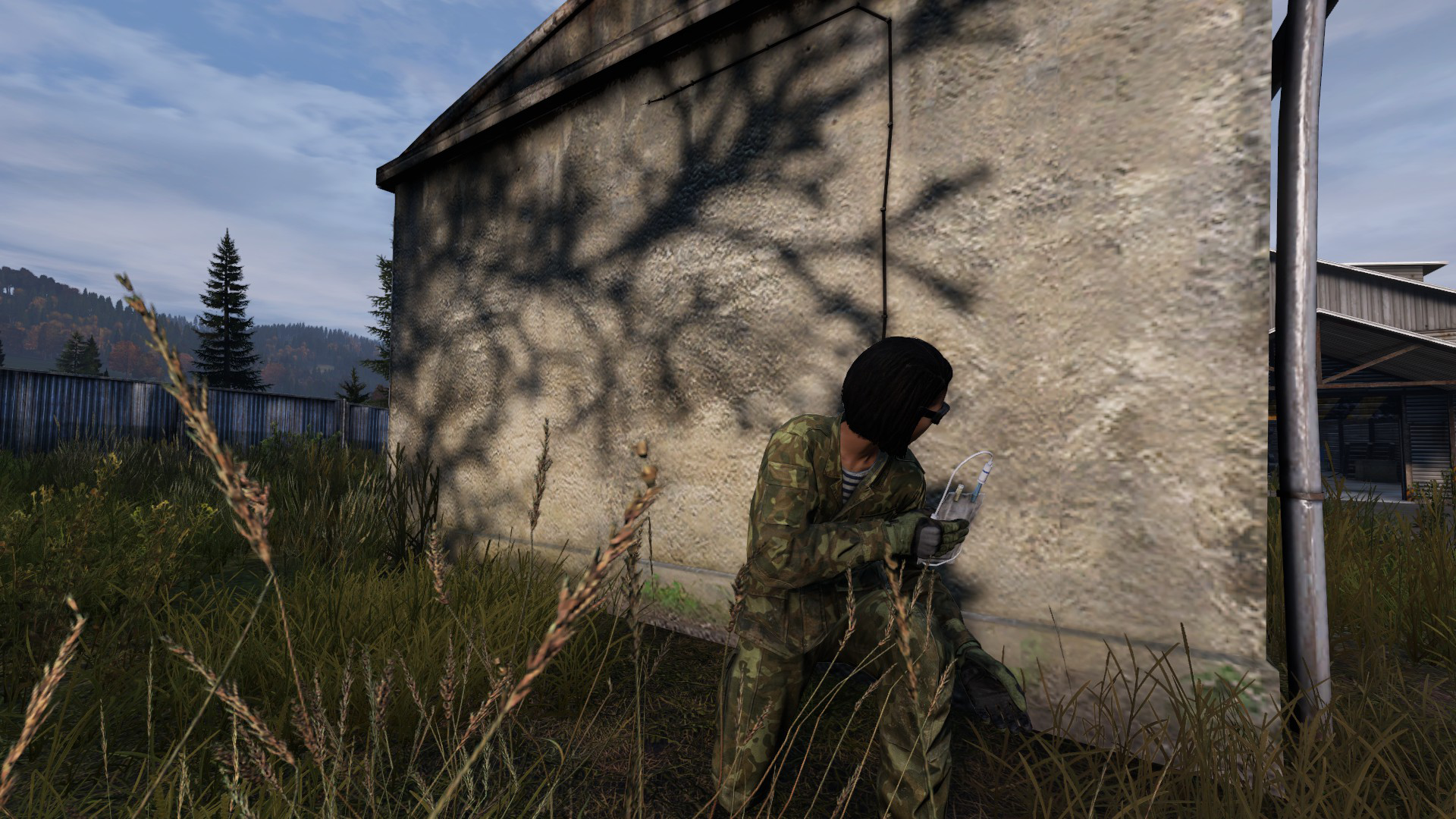 Health
 See Also: Health

Health recovers slowly, over time on its own. While Health is always regenerating, the rate at which it does so depends primarily on your Blood level, which is in turn affected by your Energy and Water levels. Additionally, every part of your body, including your overall health, regenerates at the same speed at the same time.
Much like in life, however, natural regeneration is the only way to restore Health. There are no items or treatments that will cause your character to instantly regain missing Health.
If a survivor is injured, Codeine Pills and a Morphine Auto-Injector can be used to reduce shock and allow a Survivor to gradually or immediately gain back some if not all stamina. Codeine Pills and Morphine help little with broken bones.
Shock
 See Also: Shock

Unlike Health & Blood, Shock regenerates relatively quickly and, with one exception, all of the time. Taking Shock damage will stop the regeneration effect for approximately 15 seconds. Regeneration speed is affected by the character's state of consciousness; with slower regeneration occurring while a character is unconscious.
Stamina
 See Also: Stamina

As long as a character is not performing an action that is physically exhausting, they are regenerating Stamina. The speed of its regeneration is dependent on what the character is doing at that moment.
As Stamina is more or less a representation of a character's current level of fatigue and already has an extremely quick recovery time, there are no medical treatments available to restore Stamina.
Media
Trivia
Previously in the DayZ Mod, Blood was used as a way to indicate overall health.
See Also