Project
This page is part of a Project. Please visit the DayZ:Projects page for additional information on how to assist with this effort.

This page is part of a Project.
Please visit the
DayZ:Projects
page for additional information on how to assist with this effort.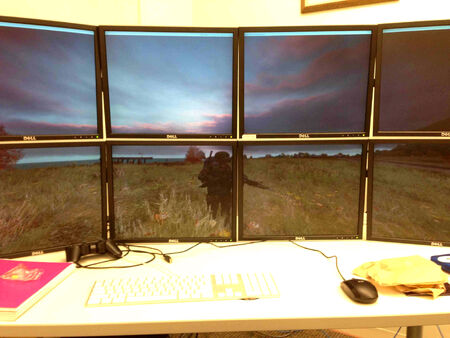 Picture by: Reddit user rubiksman
This project is intended to record information and hopefully create a central support resource for DayZ players who utilize an out-of-the-ordinary setup for enjoying the game.
Gamers, especially those who play on a desktop computer where the range of customization is far greater, are known for going above and beyond to make their experience better -- or at least different. We want to help you make the most of any kind of hardware and software you have available, and we want to make sure you have the tools available if you require special accommodations for reasons such as accessibility.
Everyone deserves to enjoy DayZ, and we want to make sure there are as few obstacles as possible between you and your enjoyment of the game.
Goals
[
]
Present users with out-of-the-box solutions for more "common" non-standard setups (i.e. 4K, Ultrawide, macOS).
Create tools and documentation to help users in configuring and troubleshooting less common setups.
Assist users with accessibility needs in finding acceptable alternative means to enjoy DayZ.
Indulge the curiosity of players looking to experience the game beyond a keyboard and mouse.
Determine what the DayZ experience is like at its absolute best and absolute worst, in terms of both performance and visual fidelity, and what hardware is necessary to reach those extremes.
What is Supported Already?
[
]
Before attempting to figure out setups which may require additional configuration, it should be determined what the game supports natively.
Display
[
]
Resolution
Aspect Ratio
Multiple Displays
Software
[
]
Operating Systems
Other Supporting Programs

SweetFX
Dxtory
Input Devices
[
]
VR
Eye Tracker
Console-style Controllers
Hardware Configuration
[
]
SLI and Crossfire
Software Configuration
[
]
.cfg Files
Accessibility
[
]
What challenges do disabled players of the game face, and how can we help them overcome those challenges so they can simply enjoy the game?
Blindness

Colorblindness

Deafness
Physical Impairment
Cognitive Impairment
Products
[
]