Raise a Floppa - The Loop
Play Sound
Semi-automatic pistol, fed from a detachable magazine. Made in tactical variant. Uses .45 ACP rounds.

— In-game description

The FX-45 is a semi-automatic handgun chambered in .45 ACP. A rare military issue pistol, the FX-45 can only be found in military camps and is usually a late-game addition to a survivors arsenal.
Overview
In DayZ Standalone, the FX-45 is a medium-sized pistol based on the tactical variant of the FN FNX. A late-game defensive weapon, the FX-45 is chambered in .45 ACP which is fed from a 15-round detachable box magazine. The FX-45's .45 ACP cartridge provides the second most stopping power (behind the .357 Rounds) of the pistol cartridges. The trade-off, however, is a slightly stronger recoil when fired. Even with the slightly stronger recoil, the increased firepower, 15 round magazine capacity and variety of attachments still make the FX-45 the primary choice for a defensive weapon among survivors.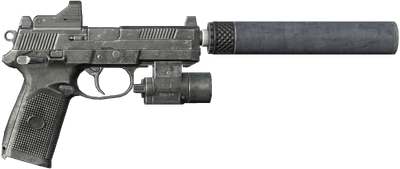 A high-end military-issue firearm, the FX-45 includes an integrated Picatinny rail; allowing for an attached Pistol Flashlight, Pistol Suppressor and a Mini Sight on the top rail. The addition of a Pistol Suppressor makes the FX-45 near inaudible.

Like most pistols, the FX-45 is best used as a close range defensive weapon. The light-weight tactical design gives the FX-45 one of the highest dexterity values, allowing it to be swung left and right rapidly while raised, in DayZ Standalone. With its stopping power, magazine capacity and high dexterity, the FX-45 can be an extremely effective weapon in close quarters combat. This effectiveness quickly evaporates, however, as distance between the user and the target increases. Although the .45 ACP cartridge provides the FX-45 with admirable stopping power, the poor accuracy of pistols beyond 50m means that switching to another firearm is almost always a better option.

For a full overview of the gun and stats, check out Wobo's site on the FX-45
Attachments
Weapon attachments are any accessories or devices that attach to a firearm in order to add, improve or modify the weapon's functionality or performance. In DayZ Standalone these attachments take the form of sights/optics, handguards, buttstocks, muzzle devices, barrel and handguard attachments and gun wraps.
Magazines
Sights and Optics
Muzzle
Illumination
Trivia
The FX-45 was the first pistol introduced in DayZ Standalone.
The FX-45 is based on it's real life counterpart FNX-45 Tactical, a variant of the FN FNX
Before 1.0, the FX-45 was named the FNX45.
Firearms in DayZ Standalone
Handguns
Submachine Guns
Shotguns
Assault Rifles
Battle Rifles
Bolt-action Rifles
Break-action Rifles
Lever-action Rifles
Marksman Rifles
Semi-automatic Rifles
Grenade Launchers
† Currently in Experimental.