Military Bases are former military facilities that have been abandoned across the Livonia terrain. Each base is unique in its number of buildings, type of buildings, and layout; all are defined by their permanent, military buildings and are typically fortified by sandbags, fences, and concrete walls.
Be careful not to confuse these bases with Military Camps. Where the camps consist entirely of different types of tents, bases are made up of larger permanent structures like Prisons and Barracks.
Locations
[
]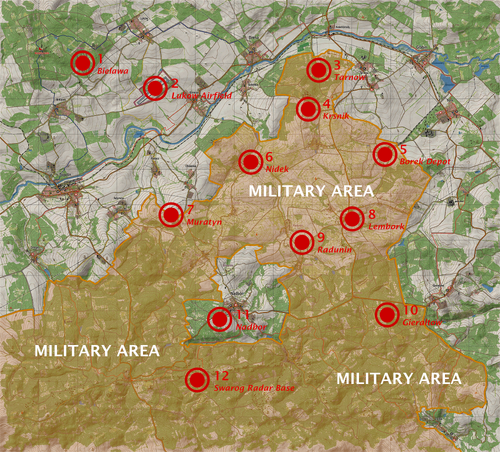 There are many military facilities located around Livonia, with the defined regions marked on the map above.
The 'military ring'
[
]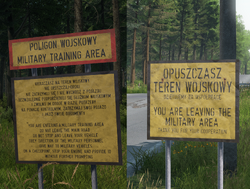 The southern forest of Livonia is notable for its military presence, with an area of influence encompassing the region in which village ruins, freestanding barracks, watchtowers, and control towers litter the landscape. Appearing to be repurposed before the Outbreak as a large-scale military training area, this region begins just south of the Biela River, and forms a ring around Greater Nadbór. The border of this military ring is made up of road checkpoints, warning signs, and guardtowers and is marked in orange on the map.
Military Bases
[
]
The established Military Bases (marked in red) listed below are those referenced specifically on the in-game map or with four or more permanent military-class buildings.
Military Base (Bielawa)

Military Base (Tarnow)

Military Base (Borek)

Military Base (Nidek)

Military Base (Muratyn)

Military Base (Lembork)

Military Base (Radunin)

Military Base (Gieraltów)

Military Base (Nadbór)

Military Base (Swarog)
Buildings
[
]
Some buildings are attributed to military bases due to their presence in said locations, such as:
Military Signs
[
]
See Also
[
]