Note: this page covers the Mod version of DayZ; for information on the Standalone, see Chernarus.
Chernarus is a fictional post-Soviet nation. It is infested with mindless zombies.
Layout
[
]
There are four major coastal towns:
Major towns off the coast include:
There are many more smaller towns, villages, villas, etc.
Map
[
]
A map of Chernarus can be found as Loot ingame which then can be accessed using the M key by default. Maps are one of the most sought after items in the game. They don't use up usual Inventory slots, but go into the tool slots below the sidearm slots. However, they use 1 inventory slot when stored in the backpack.
Gallery
[
]
Towns and Cities
[
]

A town is a major source of basic necessities such as food, water, and common ammunition. These abandoned communities can be found in every sector of Chernarus, and may vary in size and distance from one another. Small towns usually have fewer than ten lootable areas and contain almost no decent loot (Mod:Bor, Mod:Olsha) while larger towns have a lot more to choose from (Mod:Novy Sobor, Mod:Balota). The larger the town, the bigger the zombie population.... and player interest.
A city, such as Mod:Zelenogorsk and Mod:Chernogorsk, contains special locations of interest such as a supermarket, hospital, military tents, and more. As such, these forgotten utopias are the most high-trafficked areas in the game. New players may spawn in close proximity to coastal cities and venture there, sometimes to their ultimate demise. The rewards are very worthwhile if you can avoid hostile bandits and a horde of zombies. Remember: when traveling through a city, be very cautious of your surroundings.
For other locations, see Mod:Key Locations.
Key Locations
[
]
Krasnostav Airstrip (NE)
Balota Airstrip (SW)
Castles
[
]
Mod:Devils Castle (N) ЧЕРТОВ ЗАМОК
Mod:Zub Castle (Center) ЗУБ
Mod:Rog Castle (SE) PОГ
Islands
[
]
Mod:Drakon Дракон
Mod:Otmel Отмель
Mod:Skalisty Island Скалистый Остров
Bays
[
]
Bay Nizhnaya Бyхта Нижняя
Bay Zelenaya Бyхта Зеленая
Chyornaya Bay Бyхта Черная
Bay Mutnaya Бyхта Мутная
Bay Tikhaya Бyхта Тихая
Skalisty Proliv Скалистый Пролив
Rify Рифы
Guba Губа
Lake & Dams
[
]
Willow Lake Ивовое Озеро
Black Lake Черное Озеро
Ozerko Озерко
Prud Пруд
Pobeda Dam Дамба "Победа"
Topolka Dam Дамба "Тополька"
Mountains
[
]
Pustoy Khrebet Пустой Хребет 349m
Dobryy Добрый 175m
Pik Kozlova Пик Козлова 226m
Vysoky Kamen Высокий Камень 344m
Baranchik Баранчик 320m
Malinovka Малиновка 295m
Dubina Дубина 294m
Klen Kлен 324m
Olsha Ольша 211m
Ostry Острый 353m
Black Mountain Черная Гора 365m
Altar Алтарь 471m
Lesnoy Khrebet Лесной Хребет 448m
Little Hill Холмик 315m
Pop Ivan Поп Иван 385m
Bashnya Башня 385m
Kustryk Кустрик 375m
Kurgan Курган 296m
Windy Mountain Холодная Гора 311m
Landmarks
[
]
Mod:Krutoy Cap Мыс Крутой
Blunt Rocks Гладкие Камни
Mod:Three Valleys Три Долины
Pass Oreshka Перевал Орешек
Black Forest Черный Лес
Old Fields Старые Поля
Mod:Pass Sosnovy Перевал Сосновый
Mod:Green Mountain Зеленая Гора
Vysota Высота
Mod:Novy Lug Новый Луг
Kopyto Копыто
Kumyrna Кумирня
Other Locations
[
]
Power Lines
[
]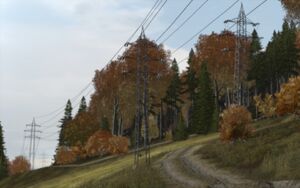 Power lines are a way to navigate Chernarus. The network consist of power plants, and high voltage transmission lines (the really tall ones) which go across the entire country-side.
The network goes along the coast between Mod:Solnichniy, Mod:Elektrozavodsk, and Mod:Chernogorsk. There is a three-way junction at Mod:Chernogorsk which then goes inland north-west to the Mod:Zelenogorsk sub-station, and then cuts east across Mod:Stary Sobor and Mod:Novy Sobor all the way to Mod:Berezino on the east coast.
Following power lines is a sure way to eventually find a town if you are lost.
[

]
Note: this page covers the Mod version of DayZ; for information on the Standalone, see Chernarus.
Sometimes it is good to know the compass directions. If you have not yet found a Mod:Compass in-game, then here are some techniques to find North.
Find North with just your watch
[
]
Method 1
[
]
With your watch, check the time (Press O, your watch will be shown on the screen). The sun travels from East to West, so if it is 6 pm, the sun would be closer to the west side of Chernarus. If it is 9 AM, the sun would be closer to the East side. Therefore, if it is AM, the sun is closer to the East side. PM = West. If it's near 12 PM (noon), you will have to try another method listed below.
Method 2
[
]
If you've found a watch and do not have a compass, you can use shadows to find (roughly) north.
find a shadow from a tree or other long object
take out your watch and keep it horizontally (looking down)
point the hour hand (short one) towards the sun
draw a line from the center of your watch and between the hour hand and 12 o'clock
north is at the other side of the center
Method 3
[
]
If you're on the south coast between Mod:Kamenka and Mod:Otmel with the sea at your back, it is straightforward. This only works if you are on the south coast (which you are most of the time when you are on a fresh spawn), though there is a chance that you spawn at the east coast between Mod:Solnichniy and Mod:Kamyshovo. In that case, straight forward is west.
Method 4
[
]
Use your watch or your vision to tell if the sun is rising or setting. The sun rises in the East and sets in the West. If the sun is in the East at the time, look at the sun (you are looking East) and North will be to your left. If the sun is setting, look at the sun (you will be looking West). Look to your right and that is North. South is obviously the opposite of that.
Clouds
[
]
The Clouds in Chernarus always travel from the West to the East.
Northern Star
[
]
Especially during the night, it can be hard to orientate and very hard to know which direction you're walking. Since you can't use shadows, you'll need to rely on the stars. Here is how to do so:
find the Big Dipper constellation
draw a line from the 2 bottom stars and keep drawing this line upwards
the next star you'll get is Polaris, the Northern Star