This page covers the Mod version of DayZ. For information on the Standalone see Devil's Castle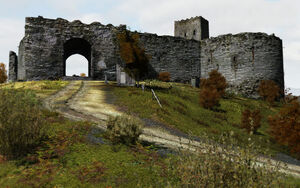 Devil's Castle (rus: Чертов Замок) is located North/Northeast of Grishino and West of Gvozdno. You can usually find a good amount of Loot inside, but sometimes quite a few zombies as well, and it is also known to occasionally be occupied by bandits. It consists of three large towers (only one of which is open) and a shed, and is surrounded by a large stone wall.
Devil's Castle is the largest and most popular of the game's castles and spawns the most Loot of the three, making it a big attraction for both Survivors and Bandits.
Fullscreen in New Window
Aerial Shot