Note: this page covers the Mod version of DayZ; for information on the Standalone, see Range Finder.
Range Finder

Stacks of
N/A
Inventory slots

Binoculars' slot

Use to

Measure the distance from the observer to target.

You also need

N/A

Duration
N/A
Location(s)
Barracks
Rarity
Very Rare
Variant(s)

N/A
A Rangefinder is a device used to measure the distance from the observer to the target. A rangefinder may use radar, sonar, or lasers to measure distance.
It takes the slot of the Mod:Binoculars.
The Rangefinder has an NVG implemented in it (Press N).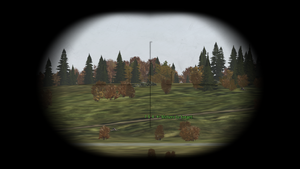 Using the Range Finder (Click image to enlarge)