Note: this page covers the Mod version of DayZ; for information on the Standalone, see Weapons.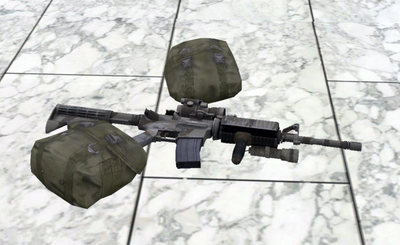 There are several types of weapons in DayZ. All weapons are modeled after their real world counter parts and they behave as such.
Some weapons are capable of accepting Attachments.
Rifles, Submachine guns, Shotguns and most Sniper Rifles will fill the Main weapon slot. These will take 10 slots in the Backpack
Sidearms take 5 slots in the Backpack.
Color Legend
Low Damage
Medium Low Damage
Mixed Damage
Medium High Damage
High Damage
The bloodcount of max health survivors is 12,000, while the bloodcount of zombies is ~4,500.
Please Note The exact spawn rate and spawn location of these weapons can vary depending on what server one plays on.
Melee
[
]
Name
Rarity
Damage
Magazine Size and Type
Body Shots to Kill
Range
Zeroing
Rate of Fire
Recoil
Noise
Attachments







Rare
889 Blood
0
N/A
N/A
1m
No
Fast
N/A
Low
N/A










Common
4500 Blood
0
N/A
3
1m
No
Fast
N/A
Low
N/A










Common
0
N/A
3
No
Fast
N/A
Low
N/A










Rare
12500 Blood
0
N/A
N/A
N/A
No
Fast
N/A
Low
N/A




Name
Rarity
Damage
Magazine Size and Type
Body Shots to Kill
Range
Zeroing
Rate of Fire
Recoil
Noise
Attachments
Sidearms
[
]
Name
Rarity
Damage
Magazine Size and Type
Body Shots to Kill
Range
Zeroing
Rate of Fire
Recoil
Noise
Attachments







Rare
889 Blood
15-17
G17 Mag, M9 Mag, M9 SD Mag
3-4
75m
No
Fast
Very low
Low
Flashlight, 9mm Suppressor










Common
4500 Blood
7
M1911 Mag, .45 ACP
3
50/100m
No
Moderate
Moderate
Moderate
None










Rare
889 Blood
15
M9 Mag, M9 SD Mag
5
75m
No
Moderate
Very low
Low
9mm Suppressor










Common
1389 Blood
8
Makarov Mag
6-8
50m
No
Fast
Moderate
Low/Moderate
9mm Suppressor










Rare
889 Blood
15-30
M9 Mag, M9 SD Mag, PDW Mag, G17 Mag, MP5 Mag, MP5 SD Mag
2-4
75m
No
Very Fast
Moderate
Moderate
9mm Suppressor










Common
4500 Blood
6
.45 ACP/M1911 Mag
4-6
100m
No
Slow
High
Moderate
None




Name
Rarity
Damage
Magazine Size and Type
Body Shots to Kill
Range
Zeroing
Rate of Fire
Recoil
Noise
Attachments
Crossbows
[
]
Name
Rarity
Damage
Magazine Size and Type
Body Shots to Kill
Range
Zeroing
Rate of Fire
Recoil
Noise
Attachments







Common
5333 Blood
1 (6 in full quivers)
Crossbow Bolt
1
30m
No
Very slow
No
None
Scope




Name
Rarity
Damage
Magazine Size and Type
Body Shots to Kill
Range
Zeroing
Rate of Fire
Recoil
Noise
Attachments
Shotguns
[
]
Sub Machine Guns
[
]
Name
Rarity
Damage
Magazine Size and Type
Body Shots to Kill
Range
Zeroing
Rate of Fire
Recoil
Noise
Attachments







Extremely Rare
889 Blood
64
Bizon SD Mag
5
100m
No
Fast
Low
Very Low
Suppressor










Rare
889 Blood
30
MP5 Mag, MP5 SD Mag, G17 Mag, M9 SD Mag
5
100m
No
Fast
Low
Low/Moderate
No




Name
Rarity
Damage
Magazine Size and Type
Body Shots to Kill
Range
Zeroing
Rate of Fire
Recoil
Noise
Attachments
Rifles
[
]
Name
Rarity
Damage
Magazine Size and Type
Body Shots to Kill
Range
Zeroing
Rate of Fire
Recoil
Noise
Attachments







Common
8,910 Blood
15
1866 Slug
1
150m
No
Moderate
High
Moderate
None










Uncommon
8000 Blood
5
Mosin-Nagant Rounds
1-2
300m normal, 600m with scope.
Yes (up to 800m with scope)
Slow (bolt action)
High
Very high
Scope, Flashligh, Ammo Belt;










Common
6722 Blood
10
Lee Enfield Mag
2
400m
No
Moderate
Moderate/High
Very High
None










Very Rare
8000 Blood
30
Mod:DMR Mag
1
600m
No
High
High
High
None










Extremely Rare
8200 Blood
20
FAL Mag
1
400m
No
Moderate
High
High










Name
Rarity
Damage
Magazine Size and Type
Body Shots to Kill
Range
Zeroing
Rate of Fire
Recoil
Noise
Attachments
Assault Rifles
[
]
Name
Rarity
Damage
Magazine Size and Type
Body Shots to Kill
Range
Zeroing
Rate of Fire
Recoil
Noise
Attachments







Uncommon
2722 Blood
30
AK Mag
2
300m
No
High
Moderate
Moderate
None










Uncommon
4500 Blood
30
AKM Mag
2-3
400m
Yes (Up to 800m)
High
High
High
None










Rare
2300 Blood
30
AK Mag
2
200m
No
High
Moderate
Moderate
None










Unknown
3300 Blood
30
STANAG SD Mag, STANAG Mag, G36 Mag
2
300m
No
Average
Moderate
Moderate
Dual Scope










Unknown
3300 Blood
30
STANAG SD Mag, G36 Mag
2
300m
No
Moderate
Moderate
Moderate
None










Unknown
3300 Blood
30
STANAG SD Mag, G36 Mag, STANAG Mag
2
300m
No
Moderate
Moderate
Moderate
Dual Scope










Very Rare
3555 Blood
30
STANAG Mag, STANAG SD Mag, G36 Mag, G36 SD Mag
2
500m
No
High
Average
High
RIS Grip, Holographic Sight, IR Laser










Rare
3,555 Blood
30
STANAG Mag, STANAG SD Mag
2
400m
No
High
Low/Moderate
Moderate
None










Rare
3300 Blood
30
STANAG Mag, STANAG SD Mag
2
300m
No
High
Moderate
Moderate
None










Rare
3300 Blood
30
STANAG Mag, STANAG SD Mag
2
300m
No
High
Moderate
Moderate
None










'Rare
4100 Blood
30


SA58 mag

1
400m
yes
High
High
High
None




Name
Rarity
Damage
Magazine Size and Type
Body Shots to Kill
Range
Zeroing
Rate of Fire
Recoil
Noise
Attachments
Light Machine Guns
[
]
Name
Rarity
Damage
Magazine Size and Type
Body Shots to Kill
Range
Zeroing
Rate of Fire
Recoil
Noise
Attachments







Uncommon
8000 Blood
30, 75
100Rnd. PKM
2
400m
No
High
Moderate
Moderate
None










Uncommon
8000 Blood
30, 75
100Rnd. PKM
2
400m
No
High
Moderate
Moderate
None










Uncommon
4100 Blood
30, 75
75Rnd. RPK, 30Rnd. AK47M
2
400m
No
High
Moderate
Moderate
None










Uncommon
2722 Blood
30, 75
75Rnd. RPK, 30Rnd. AK, 30Rnd. AK SD
2
400m
No
High
Moderate
Moderate
None










Very Rare
3555 Blood
30-200
STANAG Mag, STANAG SD Mag, 200Rnd. M249 Belt
2
300m
No
Very high
Moderate
High
Holographic
Green dot










Very Rare
8000 Blood
30-200
100Rnd. M240 Mag
2
300m
No
Very high
Moderate
High
Holographic
Green dot










Very Rare
8000 Blood
100
100Rnd. M240 Mag
1-2
400m
No
High
High
High
Aimpoint CompM3




Name
Rarity
Damage
Magazine Size and Type
Body Shots to Kill
Range
Zeroing
Rate of Fire
Recoil
Noise
Attachments
Sniper Rifles
[
]
Name
Rarity
Damage
Magazine Size and Type
Body Shots to Kill
Range
Zeroing
Rate of Fire
Recoil
Noise
Attachments







Uncommon
7733 Blood
5
CZ550 Mag
2
800m
Yes (up to 800m)
Slow
Moderate
Very high
Hunting rifle scope










Rare
8200 Blood
20
DMR Mag
2
800m
No (using mil-dots, up to 800m)
High
Moderate
Very high
Sniper scope










Rare
8000 Blood
5
M24 Mag
1-2
800m
Yes (up to 800m)
Slow (bolt action)
Moderate
Very high
Sniper scope










Very Rare
8200 Blood
5
M24 Mag
2
800m
Yes
Slow (bolt action)
Moderate
Very High
Sniper Scope










Rare
10
SVD Mag
1-2
None
Fast
Moderate
Moderate
Russian PSO scope










Very Rare
5


338 Lapua Mag

1
Yes (1400m)
Slow
High
High
Sniper Scope




Name
Rarity
Damage
Magazine Size and Type
Body Shots to Kill
Range
Zeroing
Rate of Fire
Recoil
Noise
Attachments