This page covers the Mod version of DayZ. For information on the Standalone see Zub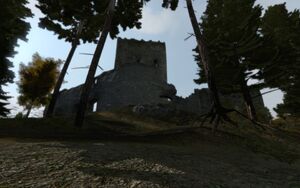 Zub Castle is a small castle ruin a few hundred meters south of Vyshnoye. Zub (rus: зуб) means "tooth" in Russian.
It has two enterable buildings: a three story tower and an archway. Note: a zombie often spawns in the tower's ground floor room.
While the old ruin gives some cover it also attracts a lot of survivors. East of the castle is a usable well and two lootable houses. Overall the risk/reward-level of Castle Zub is superior - especially when you remind the proximity to Mogilevka, too.
Fullscreen in New Window
Aerial Shot
[
]