Office buildings are multi-story structures which are to be found in some of the bigger Cities. They typify the area of the highest count of possible loot spots throughout DayZ.
General
[
]
There are two versions of Office Buildings. One is the classic from the mod, often known as the "School". and the other is new to DayZ Standalone, Sometimes known as the "TEC" Building (Due to a large sign reading "TEC" on the side) it has five stories and is similar in appearance to Hospitals.
Small Office Building
[
]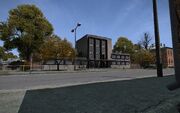 The small office building has three floors and a roof, also in addition two roofs that can be entered through the parallel floor.
In the "School" version, weapons often spawn in the room on the top floor.
Large Office Building
[
]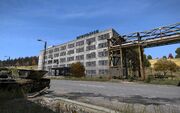 The large office building has more floors and only a single roof.
Known Locations
[
]
Areas which have Office Buildings:
Gallery
[
]