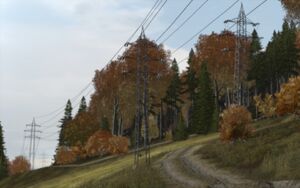 Power lines are a way to navigate Chernarus. The network consist of power plants, and high voltage transmission lines (the really tall ones) which go across the entire country-side.
The network goes along the coast between Solnichniy, Elektrozavodsk, and Chernogorsk. There is a three-way junction at Chernogorsk which then goes inland north-west to the Zelenogorsk sub-station, and then cuts east across Stary Sobor and Novy Sobor all the way to Berezino on the east coast.
Following power lines is a sure way to eventually find a town if you are lost.